The Pentagon said it was sending the aircraft carrier USS Gerald R. Ford and its accompanying warships to the eastern Mediterranean while boosting fighter aircraft squadrons in the region. US Central Command confirmed Sunday afternoon that ships and planes had begun moving to their new posts.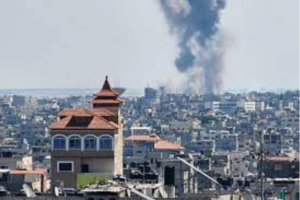 The White House, which said that "several" American citizens had been killed in the violence, has moved quickly to affirm US backing for Israel after Saturday's surprise attack from the Gaza Strip, vowing "rock solid" support and warning other parties to stay out of the conflict.
Biden on Sunday spoke to Israeli Prime Minister Benjamin Netanyahu and "conveyed that additional assistance for the Israeli Defense Forces is now on its way to Israel with more to follow over the coming days," the White House said."The leaders also discussed ongoing efforts to ensure that no enemies of Israel believe they can or should seek advantage from the current situation," it said in a statement.
The US president further "pledged his full support for the Government and people of Israel in the face of an unprecedented and appalling assault by Hamas terrorists." Hamas later accused the United States, a major supplier of arms to Israel, of "actual participation in the aggression against our people" by moving the aircraft carrier.
The Israeli-Palestinian conflict's worst escalation in decades has claimed more than 700 lives on the Israeli side, according to the military, while Gaza officials reported at least 400 deaths in Israeli air strikes.Israel's Netanyahu has steeled his shocked nation for what he called a long war ahead, with tens of thousands of Israeli forces already deployed to battle holdout Hamas forces and prepare a possible Gaza ground offensive.
The conflict has stoked fears of a wider conflagration. Lebanon's Iran-backed Hezbollah movement said Sunday it had fired shells and missiles at Israeli positions.With tensions rising, US Defense Secretary Lloyd Austin said he was sending forces to "bolster regional deterrence efforts" after discussions with Biden.
As well as the USS Gerald R. Ford carrier, this deployment includes a guided missile cruiser and four guided missile destroyers, Austin said in a statement."The United States government will be rapidly providing the Israel Defense Forces with additional equipment and resources, including munitions," added Austin, who also spoke with his Israeli counterpart on Sunday.