The Indian Supreme Court has turned down the plea of a 26-week pregnant woman for abortion on the grounds that she is suffering from a mental condition called post-partum psychosis.The apex court also admitted the central government's submission that it is willing to undertake the expenses of delivery and if parents desire, facilitate the child's adoption.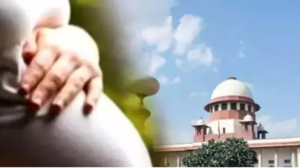 In the petition, the woman, who already has two children, said that she was suffering from post-partum psychosis and was not in a position to raise a third child, emotionally, financially, and physically.
The bench led by Chief Justice of India DY Chandrachud reached the decision based on a report by the AIIMS medical board that the pregnancy is not an immediate danger to the life of the woman and that the foetus is healthy.
The court denied permission to terminate the pregnancy since its duration had crossed the 24-week mark and added that letting the married woman to continue with her decision would violate Sections 3 and 5 of the Medical Termination of Pregnancy (MTP) Act.
Abortion is allowed under the MTP Act if the pregnancy doesn't cross 24 weeks mark for married women, for special categories including survivors of rape, and other vulnerable women, such as the differently-abled and minors.
"This court is averse to passing such a direction. The petitioner also doesn't wish to do the same," the court said, reported LiveLaw outlet.The top court also brushed aside an intervention during the proceeding that sought to challenge the upper limit for medical termination.
The court stated that the challenge to the existing law would be addressed through separate proceedings, while the ongoing petition shall remain a matter exclusively between the petitioner and the state.
Senior advocate Colin Gonsalves, who was arguing on behalf of the petitioner, cited a report of the World Health Organisation (WHO) which had already termed the 24-week guideline 'obsolete'.Justice Chandrachud-led bench took up the matter after a two-judge bench of Justice Hima Kohli and Justice BV Nagarathna earlier gave a split verdict.